Game — Veterinarian's Hospital: Ruff Day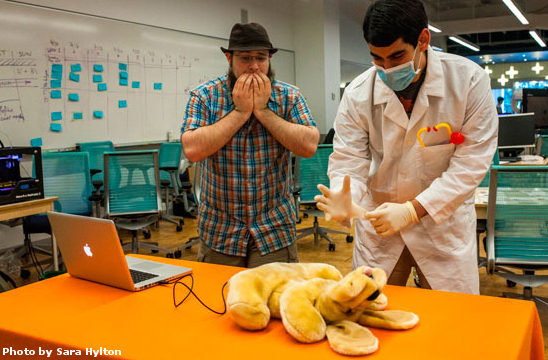 Veterinarian's Hospital: Ruff Day is a Bop It! styled alternative controller game that uses a stuffed dog toy and several sensors for input!
At Veterinarian's Hospital, our motto is "fake it 'til you make it". Armed only with a lab coat, stethoscope, and your charming smile, use a variety of emergency lifesaving procedures to prevent Bark the dog from meeting a grave fate. Veterinarian's Hospital: Ruff Day is a single player game designed for a custom built stuffed animal alternative controller. Experience fast-paced, quick reaction gameplay inspired by Bop It styled audio games. Save Bark the dog by performing 1 of 3 lifesaving techniques in a limited time frame: CPR, Cardio Pulmonary Thump, and checking for a pulse. Players earn 'life points' for each correct action, and with enough points Bark might just pull through. However, fail to do the correct move in time and Bark is in for a Ruff Day. This game has been featured at IndieCade East 2016 and New York City 2015 Come Out & Play Festival, as well as in newspapers such as the Brooklyn Paper.